Basildon Borough Lottery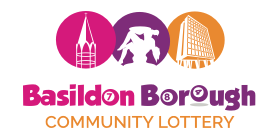 Basildon Borough Community Lottery is an exciting weekly lottery that raises money for good causes in Basildon Borough. All good causes supported by the lottery will benefit Basildon Borough and its residents.
Play the lottery to support BOSP & Basildon Borough - it's that simple!
Tickets for the lottery cost just £1 a week. Each ticket has a 1 in 50 chance to win a prize each week, with a top prize of £25,000!
60% of ticket sales will go to good causes - 45% to BOSP and 15% to a fund supporting good causes in Basildon Borough.
Please find all the details in the document below.
Thank you so much for your support and good luck!